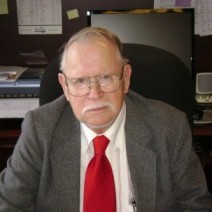 Former Suffield trustee James A. Demboski passed away on February 16th at the age of 90. Demboski had served a total of twelve years as trustee on two different occasions; from 1966 to 1973 and then again from 2010 through 2013. He also served on the Suffield Township Zoning Commission from 2006 through 2009. As a man about town, he belonged to almost every civic organization and at one time or another was president of each.
Demboski was born in Ellet, but he lived in Suffield most of his life and graduated from Suffield High School. Jim served as a Corporal in the U.S. Army during the Korean War and retired from Demboski Milk Transport after 11 years of service. He was a member of St. Joseph Catholic Church, the Korean War Vets, Mogadore VFW Post 8487, Lions Club (charter member), Knights of Columbus, Suffield Euchre Club, and was past president of FFA. Jim's hobbies included boating, fishing, hunting, playing cards and Euchre. He played football and basketball in high school, and was a Cleveland Cavs and Browns fan. He also enjoyed dinning out.
Preceded in death by his parents and siblings, he is survived by his wife of 67 years, Josephine E. (Biltz); sons, James (Peg) of Akron, John of Randolph, Steve (Elise) of Marietta, Ga., and Paul (Bonnie) of Dublin, Ohio; daughters, Peggy (Scott) Granger of North Canton, Teresa (Steve) Shanafelt of Tallmadge, Kathy (Bob) Garlow of Kernersville, N.C., Annette (Jack) MacEwen of Stow and Rita (Matt) Furino of Uniontown; 28 grandchildren; and 18 great-grandchildren.
Funeral Mass will be celebrated Wednesday, 11 a.m. at St. Joseph Catholic Church, 2643 Waterloo Road, Mogadore, Ohio 44260 with Father Thomas Acker, S.J. presiding. Burial will follow at St. Joseph Cemetery, where Mogadore VFW Post 8487 will provide military honors. Visitation will be held at the church on Wednesday prior to the service, from 9:30 to 11 a.m. The family suggests memorials to St. Joseph Catholic Church and Lourdes Grotto.