The Suffield Township Board of Trustees met on Tuesday February 26th to conduct business and to bid former Road Department foreman Scott McBroom a fond farewell. McBroom had served almost thirty years with the township before he elected to step down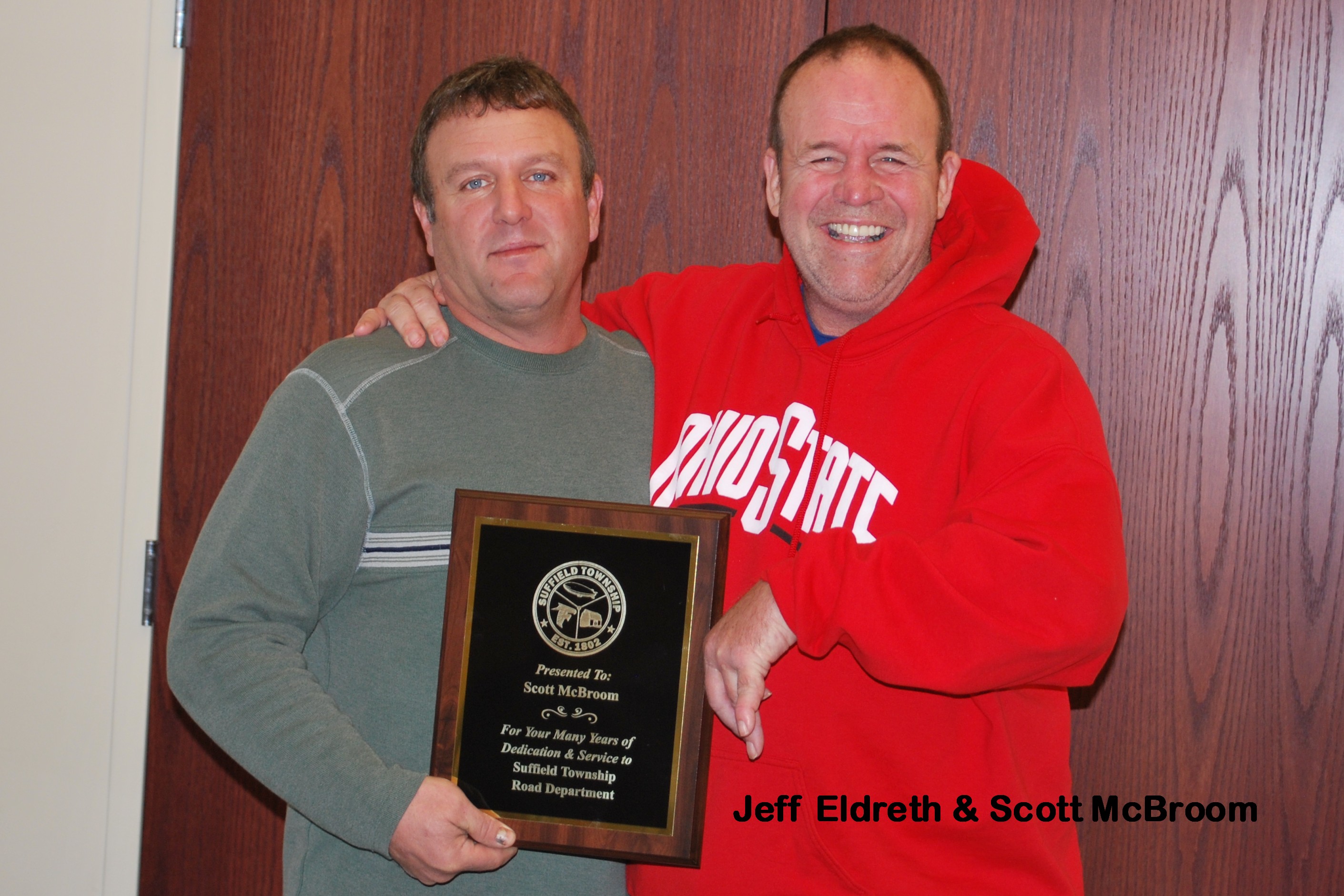 after some health concerns. Trustee Jeff Eldreth, who worked along side of Scott McBroom for twenty-two years, gave a glowing tribute to Scott, recalling some of their exploits together on behalf of the township. One story included how the two of them saved a man's life one day when the man's truck caught fire inside of his garage. Mc Broom and Eldreth had seen smoke, figured something was wrong and stopped to render aid. From there they pulled the man's truck from his garage and actually carried the man to safety. Eldreth also said that McBroom was instrumental in turning Suffield's road from "Worst to First". Eldeth said that McBroom, in addition to his duties with the township, is one of the biggest supporters of youth athletic programs, serving many years as a coach in baseball and basketball.
In other news, the trustees voted to acknowledge the county's permanent appropriation for the year 2019 at $2,487,654. They also laid plans to apply for a grant from NOPEC in the amount of approximately $19,000 under the Energized Community Grant program. The trustees reappointed Adam Bey as the representative for Suffield to the Regional Planning Commission, and Dave Vartenuk as the alternate.
Some discussion was conducted by the trustees and new Road Department foreman Dave Einloth concerning an apparently plugged up drain system near Congress Lake Road and Trares Road. Einloth said that they are working on it, but are in a holding pattern while awaiting the Portage County Engineer to water jet some of the existing drainage tiles. Einloth said that the Road Department crew worked at cleaning up some of the debris left by the high winds the last several days, but that there was nothing major.
The trustees meet again on Tuesday March 12th at 7:00 PM. The Zoning Commission meets on Wednesday March 13th at 7:00 PM the Board of Zoning Appeals will have a hearing soon, but no date has yet been set. All meetings are in the Suffield Community Room at 1256 Waterloo Road. The annual Laugh at the Lake is this Saturday March 2nd at 6:00 PM at Paradise Lake Country Club. A few tickets remain and are available at the Suffield Carryout or by calling Kyle Kreiner at 628-1580 or Tom Calcei at 256-8042.