The Suffield Township Board of Trustees met on Tuesday April 8th and discussed a myriad of subjects, most could be thought of as routine business matters.
Fire Chief Bob Rasnick was given the opportunity to present the April Fire Department report. He noted that the firefighters responded to 44 calls in April, and they are 247 calls ahead of last year's pace. He asked that former fireman Kyle Knapp be reinstated for the summer, to which the trustees agreed. Rasnick also said that he and Captain Matt Moulton attended the "Fire Department Instructions Conference" in Indianapolis, Indiana, and that they came home with lots of good information and handouts. He said it was a very worthwhile adventure for Moulton and himself.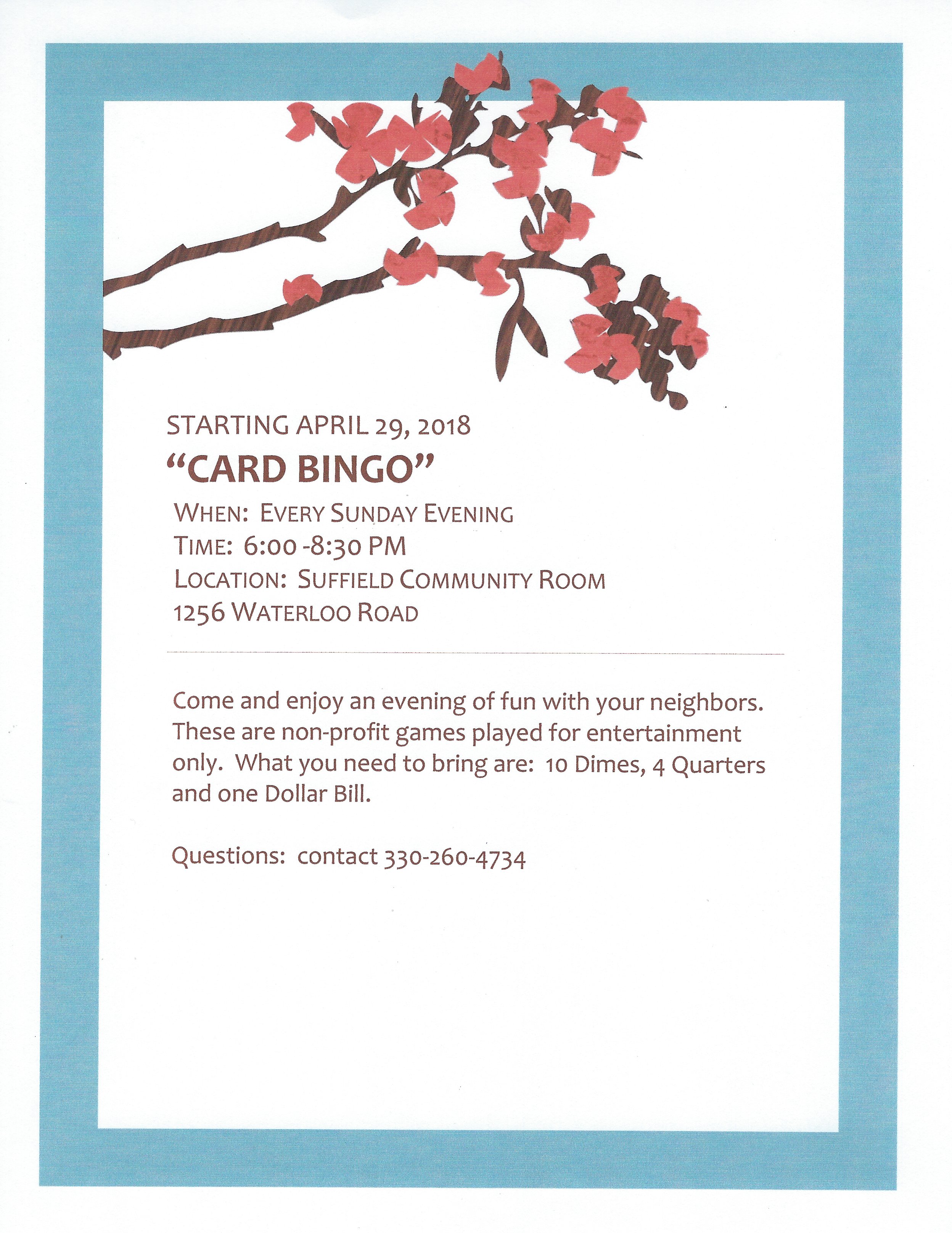 Trustee Jeff Eldreth reported that the Road Department is working on crack sealing. He asked the trustees to approve spending another $10,000 for crack seal materials. The motion was approved. Eldreth also asked that the township purchase 400 tons of salt. Last yerar the price was $34.00 per ton, using the ODOT Winter Bid program. This will save the township a ton of money (pun intended). Eldreth also asked that the trustees approve spending $3,500 to hire flagers from Area Wide Patrol for some upcoming crack sealing. This motion passed. He also accepted the bids for road materials. Lastly, Eldreth said that the water problem along Palm Road, very near to the Mogadore Reservoir, wasn't solved by trapping a couple of beavers. A more permanent solution, which likely includes a new cross-road culvert may be necessary. No immediate decision was made on this issue.
Trustee Tom Calcei said that he had received a communication from the Portage County Solid Waste District in which Director Bill Steiner reported that 15.9% of the material that the recycle trucks pick up is not recyclable. The letter received was vague enough so that this is no way to know what areas these unacceptable materials are coming from. Some discussion was had on this important matter. Calcei asked that the township website re-post information on what is acceptable and what is not. (Click here to see what CANNOT go into the Recycle Bin).....(Click here to see what CAN BE placed in the Recycle Bin)

Trustee Jared Phillip said that First Energy has finally given the township a cost for the proposed street light at Saxe Road and Congress Lake Road. Installing the light at a cost of $1,531.25 was approved by the trustees. Phillip will make arrangements to have the light installed. It was noted that the cost to maintain the light will be $4.22 per month. Fiscal Officer Lori Calcei said that Suffield pays about $982 per month for lighting the township.
Trustee Jeff Eldreth said that the "Card Bingo" that was held on Sunday April 29th was very successful. This program will continue each Sunday evening from 6:00 PM until 8:30 PM. The event is held in the Suffield Community Room, 1256 Waterloo Road. All are welcome.
The Board of Trustees next meet on Tuesday May 22, at 7:00 AM. The Zoning Commission meets on Wednesday May 9th at 7:00 PM. Both meetings are in the Suffield Community Room, 1256 Waterloo Road. The annual Suffield League Memorial Day Parade is Monday May 28th at 2:00 PM. Preceding the parade at 1:00 PM will be a memorial service in front of the historic Town Hall. This year's Grand Marshal will be Kyle Kreiner.
.