The Suffield Township Board of Trustees met on Tuesday July 23rd at 7:00 AM. Caitlin Albright of NOPEC came to the meeting to present Fire Chief Bob Rasnick with an award acknowledging his many years of service to the community. Albright said that NOPEC to honoring various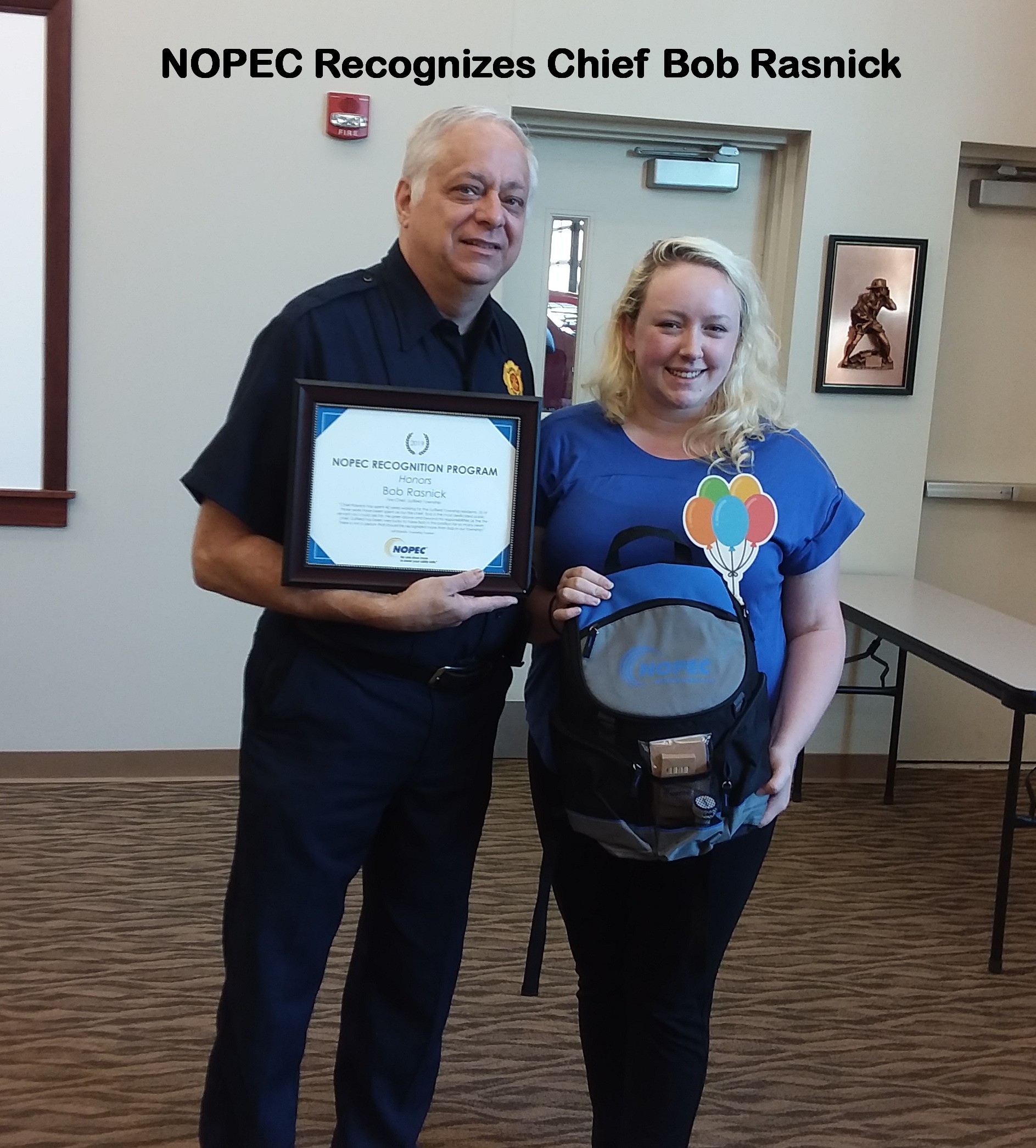 governmental employees and that this year the emphasis was on police and fire departments. Trustee Chairman Jeff Eldreth had submitted Rasnick's name for consideration. Eldreth said ""Bob has spent 40 years working for the Suffield Township residents. Thirty-five of those years has been spent as our fire chief. Bob is the most dedicated public servant you could ask for. He goes above and beyond his responsibilities as the fire chief. Suffield has been very lucky to have Bob in this position for so many years. There is not a person that should be recognized more than Bob in our township!"
Trustee Jared Phillip said that the township has donated the old sign from in front to the historic Town Hall to the Suffield United Church of Christ. This is the sign that was replaced by the new electronic sign. Zoning Inspector Adam Bey said that Portage County had given him a box of old township maps. After review by Zoning Commission Chairman John Yeargin and Bey, it was determined that the maps serve no useful purpose to the township at his time, so Bey asked that he be allowed to donate them to the Suffield Township Historical Society. The Trustees agreed. Bey also said that the Zoning Commission had a public hearing on the Zoning Resolutions amendments and was now officially informing the Trustees. The Trustees set a public hearing on these changes for Tuesday August 13 at 7:30 PM.
Jeff Eldreth said that the Road Department was likely to finish this year's crack sealing either today or tomorrow. They have some more repairs planned for Manning Road. He also said that Bill Steiner of the Portage County Solid Waste Management has agreed to some and speak at the Trustee's meeting on Tuesday September 10th at 8:00 PM.
The trustees next meet on Tuesday August 13th at 8:00 PM. Prior to the regular trustee's meeting, there will be a hearing at 7:30 PM to consider Zoning Resolution changes. The Zoning Commission is off for the month of August. The Board of Zoning Appeals has a couple hearing coming up, but neither one has been scheduled.